Pada tanggal 4 Agustus 2022, Selindo Alpha mengadakan seminar offline berjudul "Driving Innovation & Agility with Next-Gen Contact Center", yang diselenggarakan di Kantorkuu Event Space, Kuningan, Jakarta Selatan. Ini adalah event offline pertama Selindo Alpha setelah pandemi dan dihadiri puluhan peserta dari berbagai perusahaan, didominasi oleh praktisi Contact Center dan Information Technology. Acara yang digelar sehari penuh ini sangat meriah, diisi oleh para pembicara dari Avaya, Genesys, NICE dan Audiocodes. Tidak lupa acara diselingi dengan kuis yang berhadiah menarik, yang diikuti oleh seluruh peserta secara antusias.
How to create a bolder, strong & faster contact center
Setelah diawali dengan menyanyikan lagu "Indonesia Raya" secara bersama-sama, Armanto Prasetyo (VP of Sales & ECD Group Head Selindo Alpha) membuka acara dengan memberikan tips praktis bagaimana membuat contact center yang lebih kuat, berkualitas, dan mampu merespon dengan cepat keinginan pelanggan. Setidaknya ada 4 area yang perlu diperhatikan, yaitu: Be Customer Centric, Path to Self-Service, Supercharge Your Agents, dan Drive Urgency Around Technology Refresh.
Enhance your Customer Experience & Employee Experience using AI
Di sesi pertama, Doddy Kartiwa (Solution Consultant Genesys) memaparkan bagaimana cara memenangkan kompetisi CX dan EX dengan menggunakan bantuan teknologi (Artificial Inteligence). Dimana bisnis adalah tentang empathy yang dAPAC CX Regional Managerimulai dari mendengarkan, memahami dan memprediksi, action dan belajar. Dengan AI Portfolio yang dimiliki Genesys, yaitu Predictive Engagement, Chatbot & Voicebot, Predictive Routing, & Workforce Engagement, dapat membantu perusahaan untuk memenangkan persaingan memperbaiki Customer Experience & Employee Experience.
AI-Powered Mobile Experience Delivers Cost-Saving Innovation
Juliet Lee (APAC CX Regional Manager Avaya) memberikan pemaparan yang menarik dimana banyak perusahaan yang mengalami kendala untuk membuat multi-experience yang baik, diantaranya: integrate messenger platform into communication, merge customer data from silo technologies, customer & exployee experience. Technologi AI dari Avaya dapat membantu dalam proses KYC, Authentication, Payment, dan Support. Juliet juga memperkenalkan Solusi Avaya OneCloud sebagai gabungan dari berbagai produk Avaya yang dapat digunakan oleh para pelanggan, dengan metode subscription.
Improve your CX Agent skills with Next-Gen Agent Assist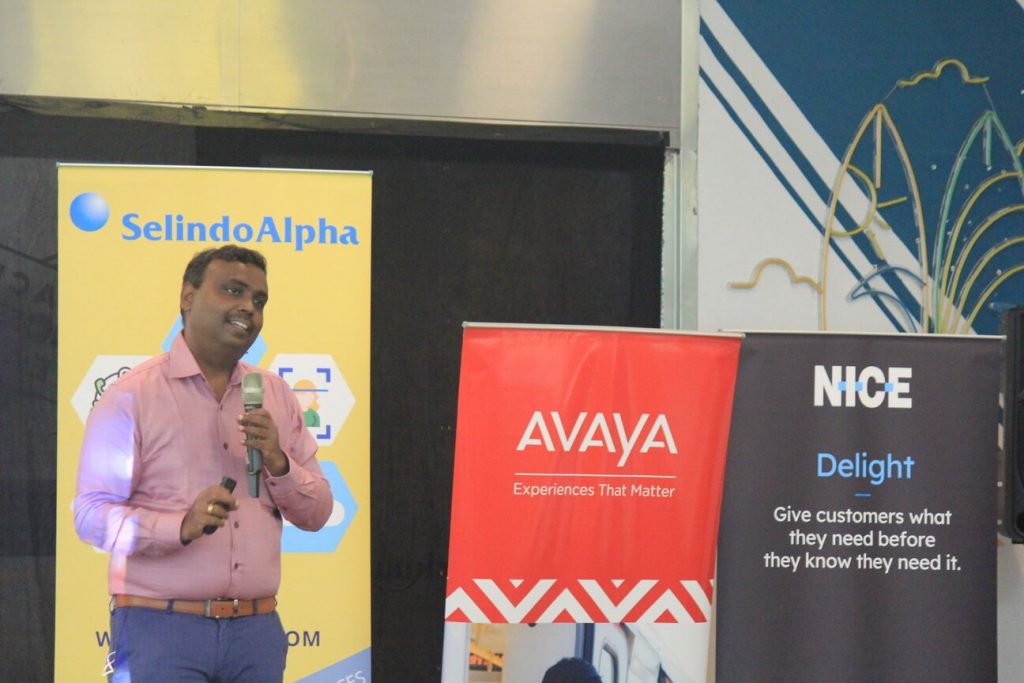 Sesi setelah makan siang diisi oleh Mark Harrington (Vice President Solutions, APAC NICE), dengan gaya story telling memberikan pemaparan bagaimana ekspekstasi pelangan saat ini telah berubah sangat drastis dan apabila perusahaan masih mengggunakan cara lama untuk melayani, maka perusahaan akan kalah dalam kompetisi. 81% pelanggan melakukan interaksi pertama kali dengan brand / perusahaan, adalah melalui digital (google search, chat, email, etc). dan hanya 19% yang masuk ke contact center untuk mendapatkan pertolongan dari agent. NICE CXOne adalah solusi lengkap dari NICE yang memungkinkan perusahaan untuk melayani customer secara inteligen di semua channel, dimanapun interaksi dengan pelanggan itu dimulai.
Seamless voice call experience using Conversational VoiceAI Connect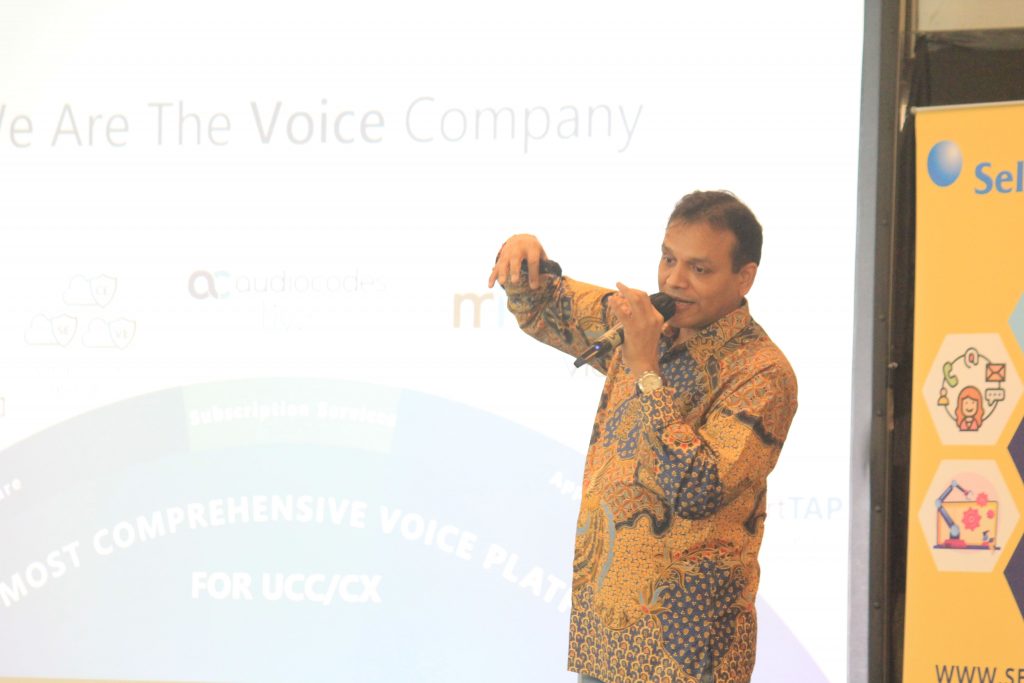 Madnish Garg (Regional Sales Director, Contact Center, APAC Audiocodes) mengisi sesi penutup dengan memaparkan bagaimana solusi Audiocodes dapat dengan mudah mengaktifkan fitur Internet Call, Video Call, bahkan VoiceBot dengan mudah, apapun platform contact center, dengan API yang sudah tersedia.